At Seahorse Landing you can expect breathtaking views of the Gulf of Mexico from all of our luxury two bedroom condominiums. Spectacular sunsets are common place from your condo balcony. Each of our 15 beautifully furnished units has a large private balcony, a fully equipped kitchen, 2 baths, washer/dryer and free WIFI. All you need to bring is your suitcase, groceries and an island state of mind.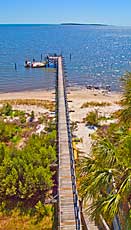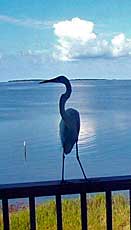 Love boating and fishing? Seahorse landing's boat dock and pier are exclusively for the use of our guests. If birding is your passion, guests have reported over 60 species of birds observed from their condos.
Cedar Key is one of Florida's best kept treasures, located in Florida's longest undeveloped stretch of coastline, often called the Hidden Coast. When you cross the bridges leading into the Cedar Keys you will be instantly transported into a state of utter tranquility. You want to get away from the hustle and bustle of everyday life? Cedar Key is the place to be. Boasting some of the best fishing spots around and enough wildlife to keep you in awe for hours, Cedar Key is a rare part of Florida that is still rich in natural beauty and a perfect specimen of what the Sunshine State used to be.
Explore our unique and historic seaside community by foot, boat, bike or golf cart. Visit the museums, art galleries and shops. Fish from the city pier, your own boat or hire one of the excellent local guides. Dine on Cedar Key clams, oysters, stone crab and fresh fish among other delightful cuisine at a local restaurant. Walk the shores, paddle the waters, bike the trails, enjoy...